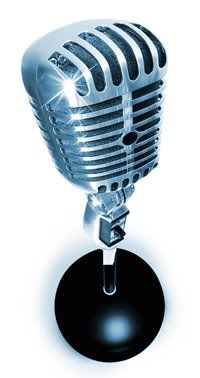 Today,
Not Just for Breakfast Anymore
launches as a serialized audio book. Narrated by me.
Becoming your own recording studio is no easier than becoming your own publisher, let me tell you. It involves learning a whole new craft — I've developed a big respect for voice over talent. Those guys earn their keep.
What I Did
I got a microphone, sealed off part of the house, and started to record in Garage Band (free with Macs). Think you know your book? Try reading it out loud. What's obvious in print is no longer there in audio.
I used royalty-free sound effects and stock music clips. Again, trying to lower costs to just time spent.
I flubbed words all over the place. Re-recording led to levels being off. Thank god for the app Levelator!
Where I Did
Podiobooks. The learning curve, for a novice like me, felt like a putting a puzzle together. In the dark. Missing pieces.
Don't get me wrong, Podiobooks is used to newbies like me and emailed detailed instructions. Pages. But they don't hand hold. Be prepared to cobble together your own process. Again, this is like learning a whole new craft. It can be done with minimal cost and programs that are free to you. You just have to really want to do it.
Why I Did
Audio books have been the launchpad for many an indie. If nothing else, it is another avenue for prospective readers to find my work. Besides, it was fun.
In addition to my book, check out the others at Podiobooks. Books are free, though donations are appreciated. The quality is fantastic and there's something there for anyone's taste.