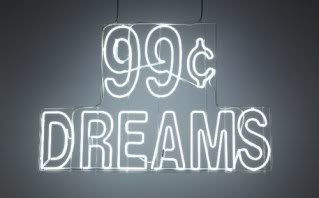 Established authors have been quick to dismiss the trend, but let me tell you about this poor man's marketing plan. Instead of advertising dollars chasing potential profits, 99c IS the advertisement.
Free advertisement.
Take, for instance, a 2k advertising buy. You sell 1k books at a profit margin of $2. Oh look. You break even.
Or you sell 500. Lose money. Or get NOTHING.
Instead you drop the price to .99c. Sell 1k books, and instead of $2,000 you get $400. Did that really cost you $1600 or, like me, would you have not sold near that many anyway?
Not Just for Breakfast Anymore
was priced at .99c for the summer. The result? A modest, but definite increase in sales, and now NJFBA is in the top fifty in its categories, if not top twenty.
Price is a superior marketing tool versus ad buys (when time is an abundant resource, which is the only thing indies reliably have). You only pay for marketing that results in sales.
Now you've all heard the blog blather about the 99c price line demeaning the value of the work (like anything has inherent worth) and 'creates a race to the bottom' (again, no. Books, like water, seek their own level) Competition doesn't reduce wages to zero—try finding a free gardener.
And indies can always raise the price once there's demand. Being able to control these aspects is what gives independent publishing its appeal.
As far as I'm concerned, dissing the 99c millionaires is a millionaires game. Easy to say from on top of a pile of money.